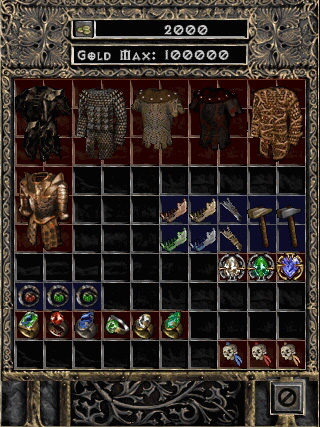 I redesigned some of the items to make them easier to find in your inventory and also to make things a little cooler. In the image above you can see that your dwarf, raven and shock absorber are all easily visible from the rest of your rings which makes it easier to find them for boss battles.
You can run the adjustment locally and it won't cause any issues; I have been using these graphics for the past few weeks with no problems.
Download:
Multi-player zip file:
http://blue.arimyth.com/blue-itempackFeb21.zip
Single player zip file:
http://blue.arimyth.com/blue-itempacksoloMar28.zip
Items changed are:
All unique rings except for nagel & manald
All unique jewels
Most unique amulets
Elemental Set rings and amulet
Adament glyphs and hammers
Purifcation glyphs
Samhiem unique charms
Gheed's Charm
LOS Keys (color coded)
Sockets
Armors: Sacred, Ornate, Archon, Hellforge Plate, Adament Gloves & boots, Vampirebone gloves, Boneweave armor and boots, Aegis, Ward, Chaos Plate, Shadow Plate, 2 barb helms, a few paladin shields
Weapons: Zerker axe, ThunderMaul, Glorious Axe, Thresher, Giant Thresher, Ogre Axe,
Starstone, Moonstone & uber gems have also been corrected so they look the same in all difficulties.
Install Directions
To get it working, you need to:
1. Go to your DiabloII directory. For me, I have it installed in the root, so it is C:\Diablo II\ but it may be different on your computer.
2. Find the folder called "Data" in there and open it up. In that data folder is another folder called "Global" open that up and you should see a single folder in there called "Excel".
3. Create a new folder called "items".
4. Download the zip file in this post and extract it. In there you should see two types of files .dc6 and .txt. Put all the .dc6 files in the "items" folder and the .txt file in the "Excel" folder.
5.
IMPORTANT
- make sure you are NOT running Diablo2 when you are doing this. Exit out of the game and make all these changes.
Attachment: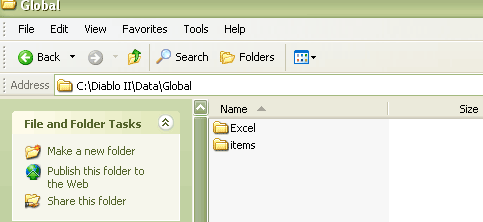 data-file.gif [ 13.16 KiB | Viewed 15418 times ]
I am going to be updating the uniq amulets, set rings and a few other things so keep an eye on this thread for updates.
Uninstall files:
If you have a problem with this pack, you can restore your version back to "normal" by deleting the Items folder and putting the txt files from the zip file below in to your Excel folder:
http://blue.arimyth.com/ItemPack-uninstall.zip