I've tried so many different attempts at getting the HU update/install and I keep getting failures. I have downloaded a fresh install of D2 and LOD, installed the core files, HU_1.3b_r2_HighRes.exe (as well as attempts at the lower and normal resolutions) and I've also tried installing with and without new loader, I've modified the shortcut to -direct -txt, and I'm getting a error message that looks like this: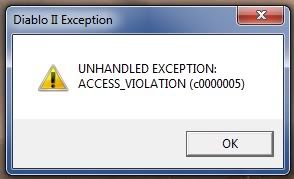 I'm completely uncertain why I can't get a good install. I have uninstalled the game and reinstalled 4 times now and the same thing happens. Any help is appreciated. Thanks.
Tobes
edit: I have also had a somewhat successful attempt at install but it still wasn't right. The game would open and the start screen had a broken looking image of the top of the diablo logo and the bottom. It was like it was cutting out some of the middle of the graphic. The game then froze upon trying to enter it.