The full tree download is just the installation folder for D2:LoD after Ensley installed D2SE and HUv1.6.
It's recommended that you extract that folder to C:\D2\, so that you'd have the this kind of folder tree:
C:\D2\D2SE.exe
C:\D2\Game.exe (along with about 60 other files and folders)
...
C:\D2\d2xmusic.mpq (along with another 10 or so .mpq files)
...
C:\D2\MODS\HUv1.6\
Once that is done, you'd need to change the permissions for some of the .exe programs so your computer will run them as if they were an administrator (just like they used to back in 1997), so you'd right-click on
D2SE.exe
Game.exe
Diablo2.exe
maybe D2VidTst.exe (it's configured on my machine at least, but it probably doesn't need it)
and configure them to run as if they were on WindowsXP, and as Administrator.
Before working with HUv1.21, run D2SE.exe and confirm that it opens a window such as (I just grabbed this pic from the internet):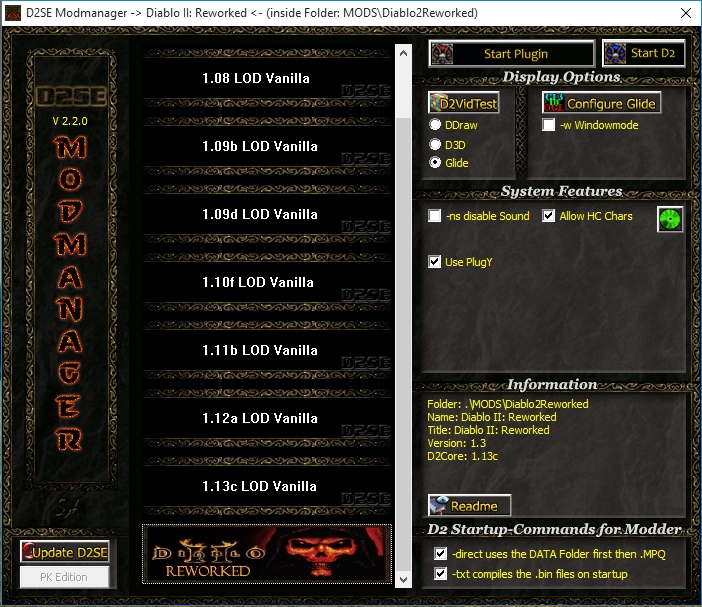 Top Right
StartPlugin - Runs the mod selected on the left (you could also just double click that mod's banner)
StartD2 - Starts D2 and I think ignores mod files. Generally not what we want.
Display Options: my machine works well with DirectDraw, but if the game seems slow or strange, then try Glide. You'll need to configure Glide (it'll open another window where every setting has some information at the bottom to give you a hint about how to set it. Most players swear that Glide is the way for them, but I don't have too much experience with that.
Middle Right:
Checkboxes to Disable Sound, allow HC chars even though you might not have completed SC Normal difficulty, use the PlugY mod (I don't know everything it does, but it allows your SinglePlayer chars to share a stash, and lets the stash have many pages of items. Some mods can't work with this, I've heard that HU can run with it. I don't know how to set it up, but there are online tutorials).
Bottom Right:
D2 Startup Commands: these two checkboxes tell D2SE to tell D2 to look for a "data" folder (e.g. C:\D2\MODS\HUv1.6\data\) which could contain overrides for all the data in file patch_d2.mpq. You might use this if you downloaded a no-extra-music version of HU but changed your mind and wanted to grab that music from another version (e.g.
one guy did this recently
).
Try running a vanilla version for a minute, just to see if you can make a char and it loads. This would confirm that D2SE is not a problem.
Try running HUv1.6 for a minute (you might need to scroll down the list on the left), just to see if you can make a char and it loads. This would confirm that HU isn't a problem.
Let me know when you've gotten this far and if you need a hand putting HUv1.21 into the MODS folder.