Okay this has been bothering me for a long time, and a friend was supposed to post about it, but I can't seem to find absolutely anything about this on the forums...
What exactly is the deal with Frost Tears? It has no listed -enemy res.
Aside from this small error, I'm wondering if it still gives the -12% cold resistance that it displays on critterkiller, despite it not being listed in game.
Attachment: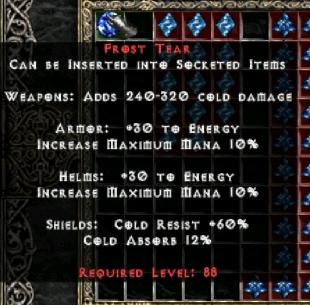 Screenshot042.jpg [ 25.53 KiB | Viewed 1461 times ]
_________________
-ISO-
Moonstone Rubies
,
+6/-6
Psn
/
Lite
Facets
,
Hearts (pal/nec/dru/zon), Braaaains