Now our hero has arrived at the docks of Kurast. It turns out Raissa was feigning death all along. Nazar did not question her loyalty to him and THE QUEST, he was just glad to have his sexy companion back. Anyways...The Temple of Zakarum has been corrupted by the Dark Lord Mephisto and his zealous servants have pushed back the people of Kurast to the docks. The city's last defensive is a magical barrier conjured by a local mage.
Nazar must now search for the pieces of Khalims Flail and make his way through the jungles of Kurast to the Temple of the Zakarum.
After scooting around the jungle Nazar has come to a strange lair.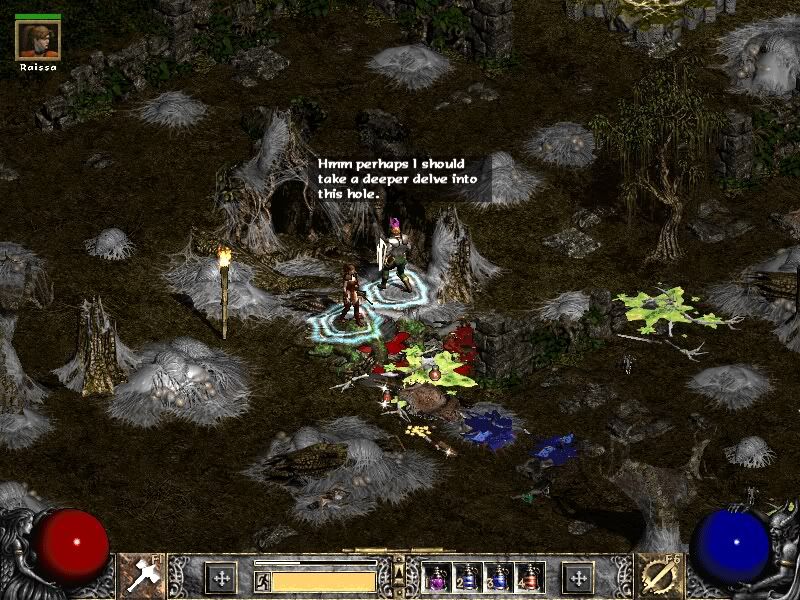 He goes inside, knowing how often people put their organs, which are also pieces to a magical flail, in strange holes.
Deeper inside the spider cavern he find the Matriarch. Nazar attacked it think it would be an easy battle, but the Matriarch's web slowed Nazar's movement. He soon became fatigued this battle was very prolonged.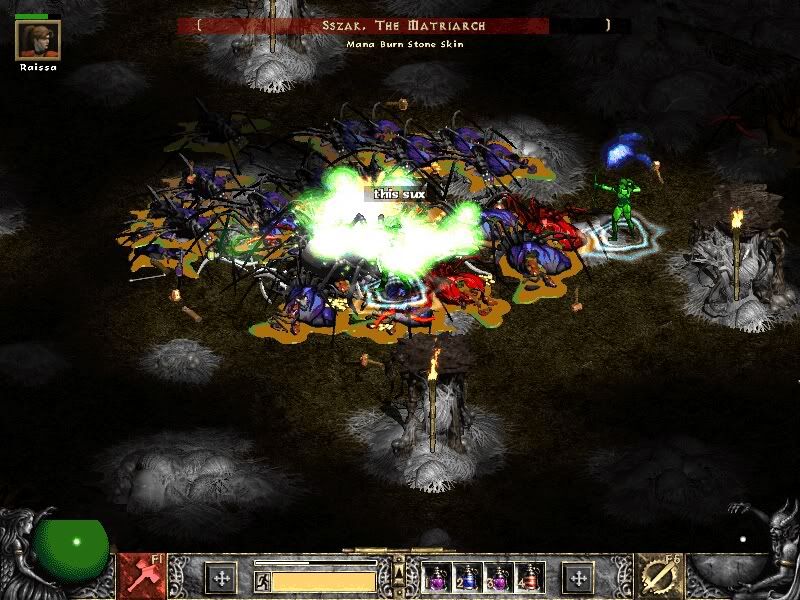 Once the Matriarch knew she faced certain death she began to flee. Nazar laughed at this and mocked her. Oh, how he hates these poor creatures.
Nazar felt ashamed that he lost his composure, but damn it he hates bugs. Once she was dead Nazar gutted her and found an eye. What the hell kind of flail is this...
Outside of the spider hole Nazar met a fellow paladin, Shingami. Shingami was also on his way to Kurast and so the two traveled there in style. Holding hands, skipping and singing, "Fa la la, la la," the whole way
...
...Ok, maybe not that last part.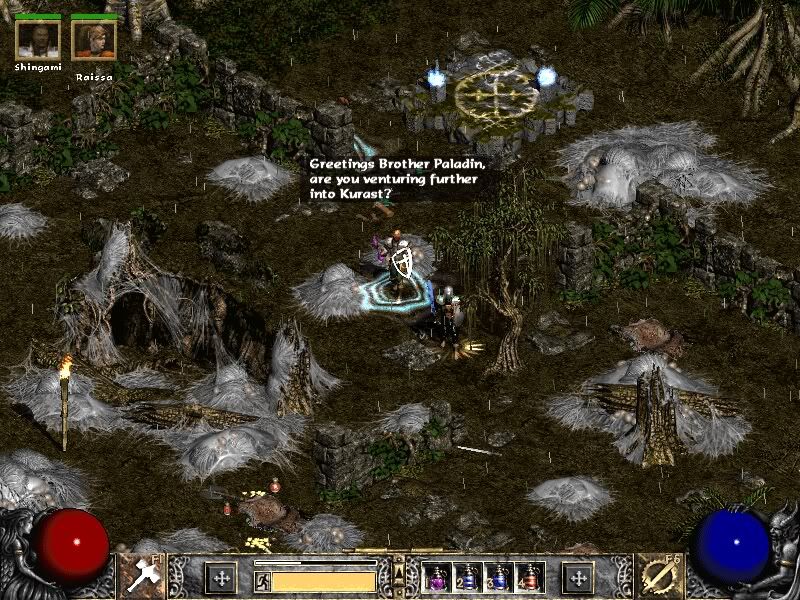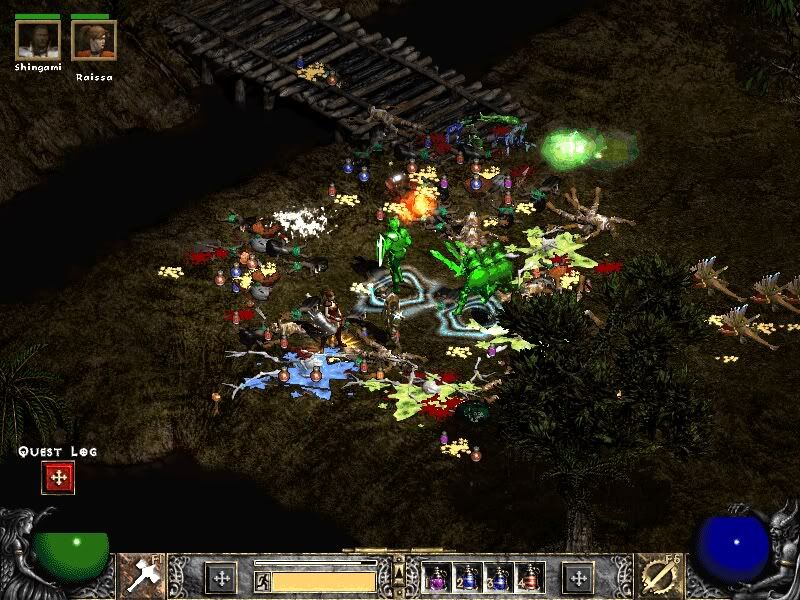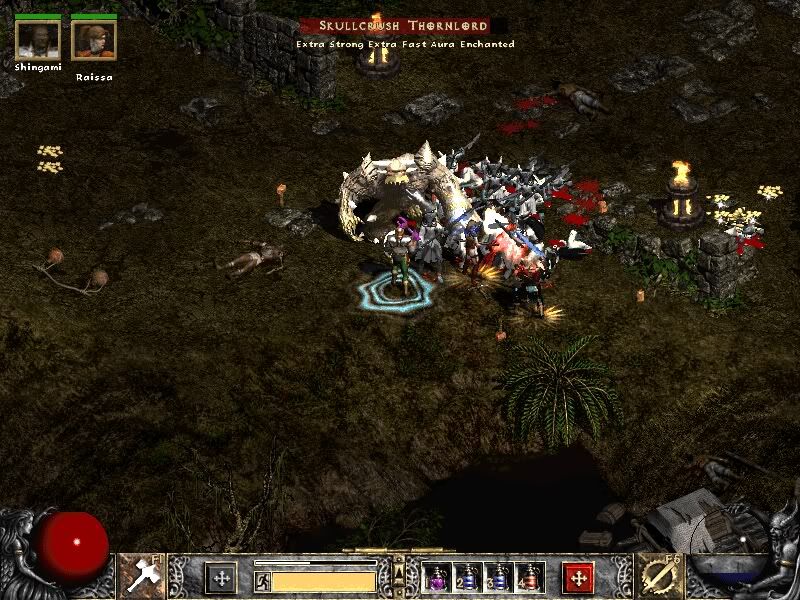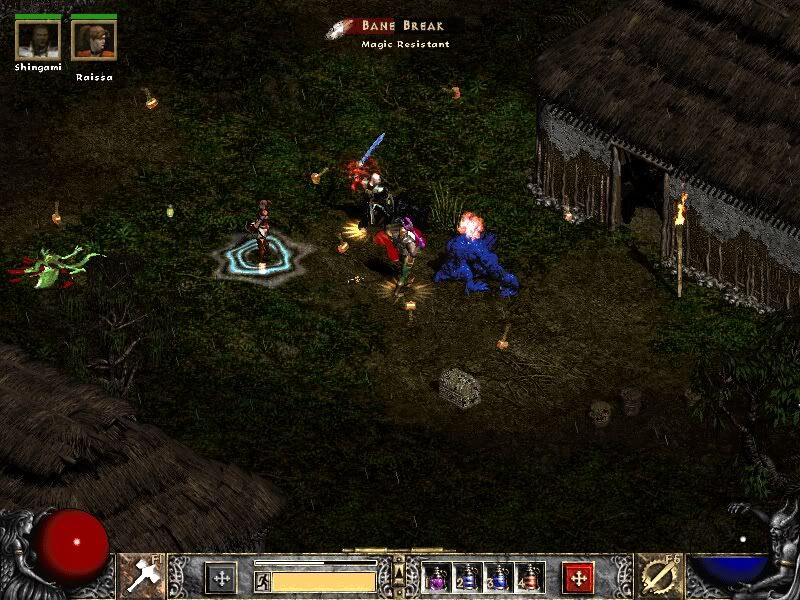 Together the two holy warriors swiftly cut a path into the heart of Kurast and soon came to the foot of the Temple of Zakarum. There was a large group of demons and corrupted followers of Zakarum guarding the entrance to the temple grounds. Nazar began to devise a plan, but Shingami did not wait and charged ahead in a zealous rage...
Nazar was stunned at first, but soon ran after his brother. Smiting demons and corrupted zealots aside with ease, but it still was not fast enough. When Nazar cleared the area, Shingami was no where to be found...only his weapon remained.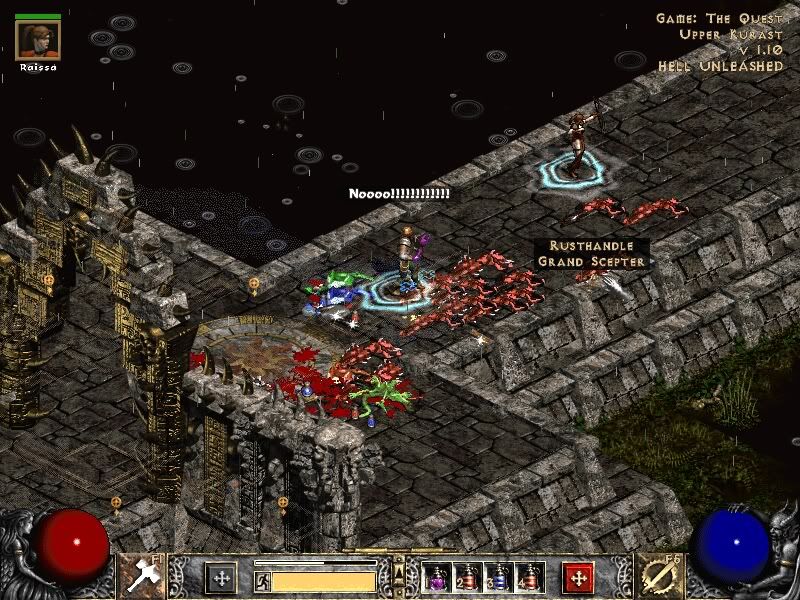 Nazar was thirsty...for blood!
He charged the remaining enemies and let out a storm of divine hammers, killing all but one. This foe was no regular corrupted zealot; Nazar soon found this out as he was hit by three lightning bolts and was sent flying back. The warrior continued bombarding Nazar with lightning. Nazar needed to recover quickly, but he was not given the chance. The dark warrior charged with lightning speed and soon Nazar found himself drained of energy; unable to fight. Nazar began to meditate and found the willpower to continue this battle. Nazar bashed the warrior with his shield and the warrior dropped his shield. Now was their chance, Raissa decided to help and began to fire arrows into the demon and he was easily put down.
Nazar pushed further into temple. It was difficult to kill so many of his former brethren, but they were no longer the men he once knew.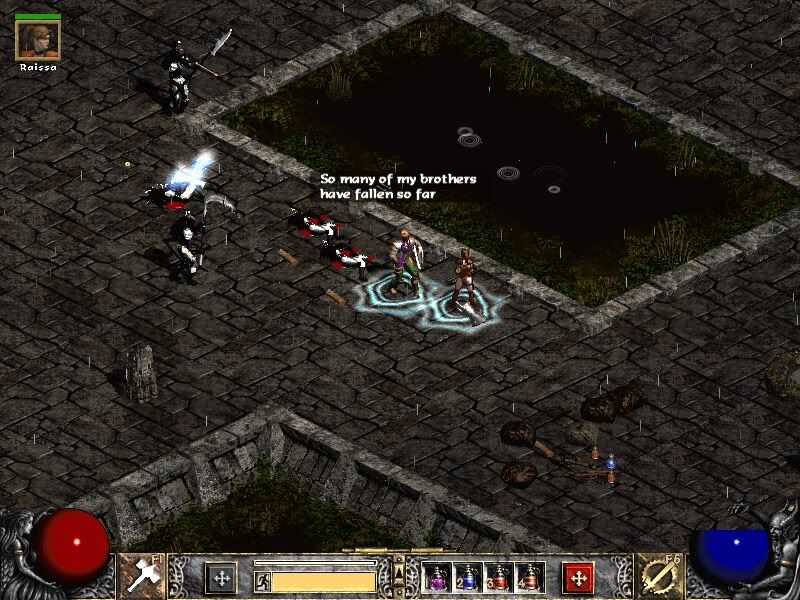 Nazar cleared the temple grounds, set up a base camp and then ventured back into the jungle to recover the rest of the flail.
Khalim's brain was found inside a the belly of a Chimera, deep in the jungle and guarded by an army of fetish demons. His heart was found under neath the ruined city of Kurast in its sewers.
With the three body parts in his possession, Nazar now returned to the temple to kill the High Council and retrieve the flail itself.
The council members although enchanted with demonic powers, were weak and frail; no match for our battle hardened hero.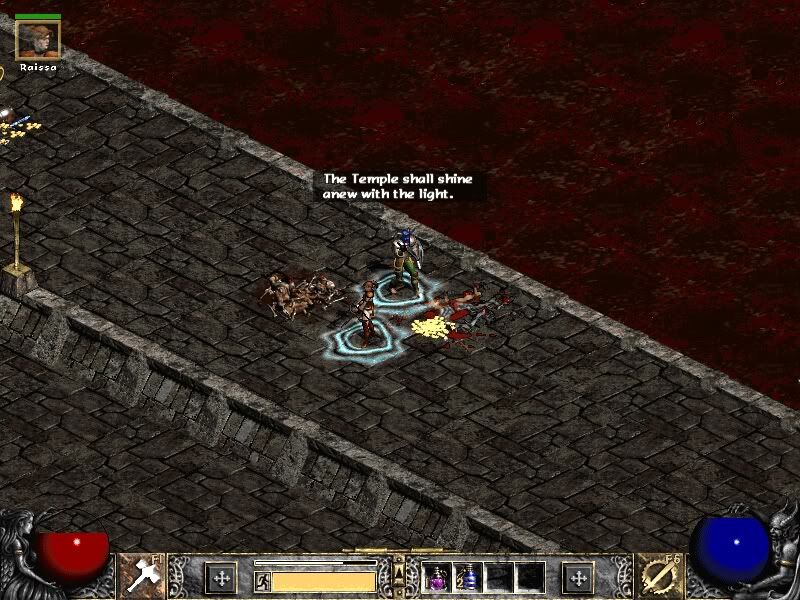 With the complete flail in hand Nazar smashed the orb sealing Mephisto's Durance shut and opened the way.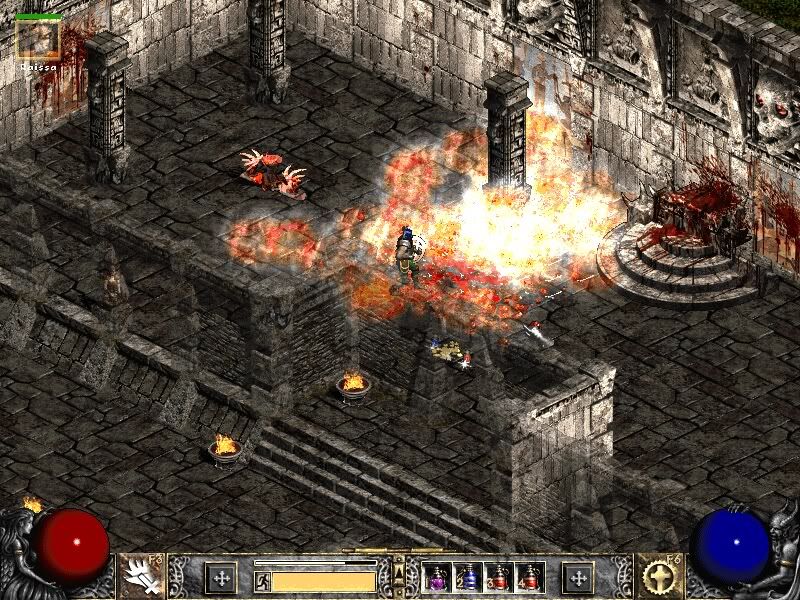 Nazar fought his way through the dark halls of Mephisto's lair. Screams that would haunt Nazar for the rest of his life were heard echoing through the corridors. Always surrounded by demonic fiends, Nazar remained steadfast and with the help of lovely Raissa made his way into the lowest level of the durance.
Nazar could see a succubus, clearly the leader of these demons, at the far end of the antechamber and he knew that she would lead him to Mephisto. BUT OH NO IN THE WAY IS A WALL OF ZOMBIES!!!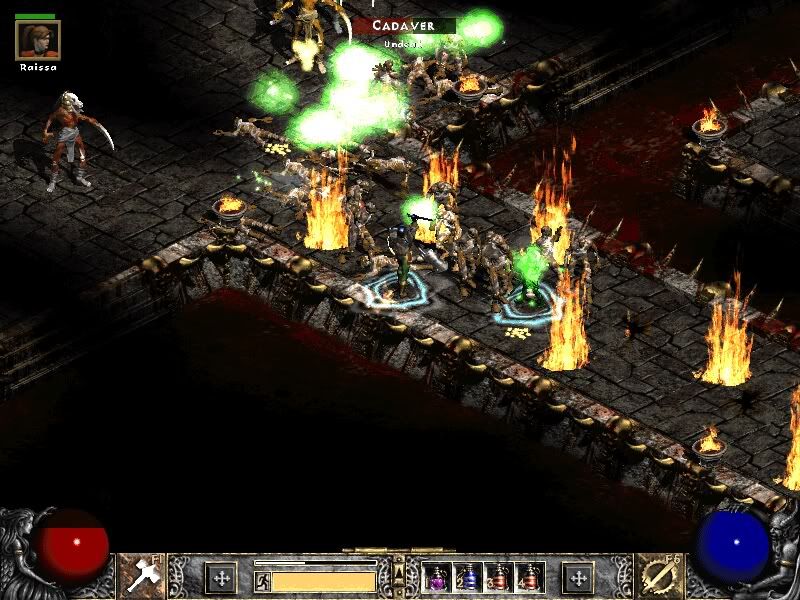 For any other hero this would be a problem but Nazar and his magical spinning hammers make killing undead as easy as 1, 2. Yeah, that's right...he doesn't even need a "3"
The succubus sent her vanguard of demons charging at Nazar. He braced himself for the impact, but just as the demons reached Nazar spiraling hammers swung around and banished them back to hell.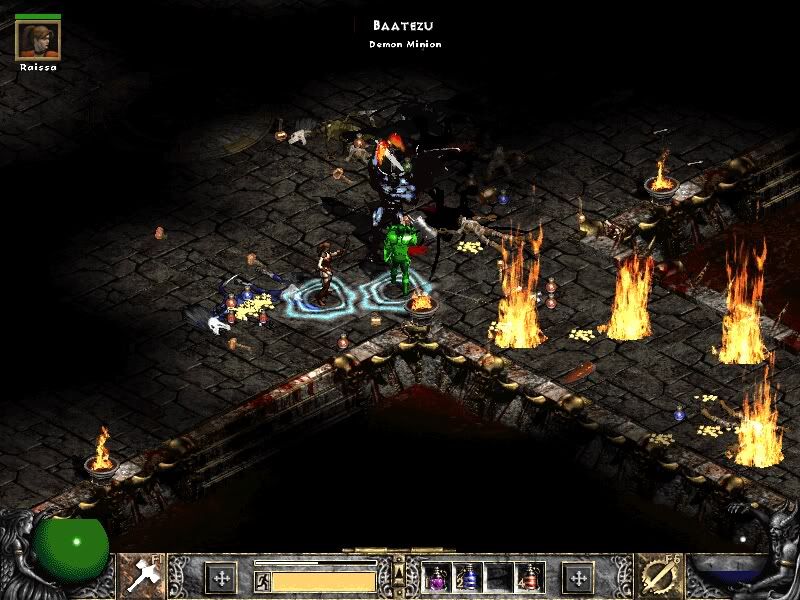 Nazar now rushed towards the succubus, and so did Raissa... Raissa was turned into a block of ice and shattered by the succubus.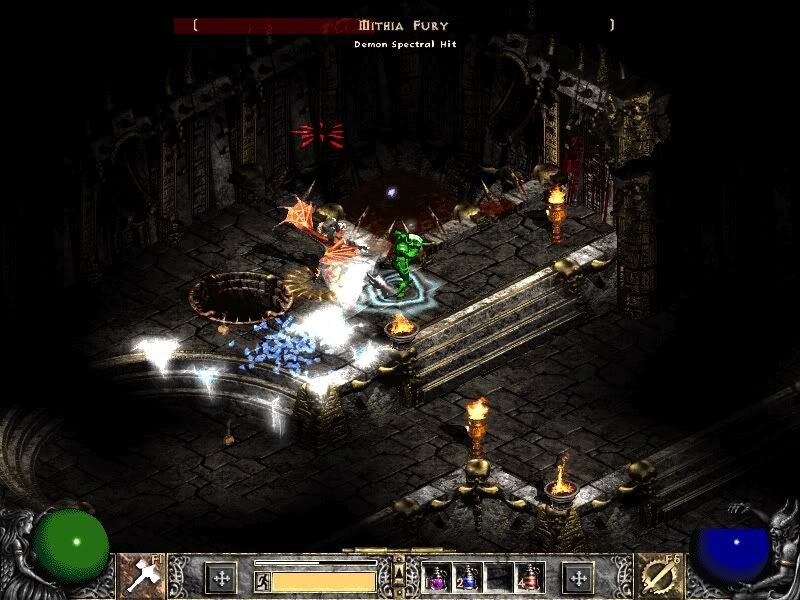 Nazar was furious and with a burst of divine magic burned the flesh from the succubus and reduce her into a pile of ashes.
A portal opened itself before Nazar...
...
The Portal brought Nazar to a grand chamber and in the middle a large ominous portal stood in a moat of blood. Nazar was too late, Diablo and Baal have escaped.
Nazar then saw him, The Lord of Hatred himself. He was a hideous monstrosity standing as tall as two men with gargantuan claws that could tear a man in two. No mortal man could even hope to survive and encounter with this demon, let alone defeat him. However, Nazar is much more than a mere mortal, he is protected by the High heavens and this is his destiny.
Nazar knew he would not be able to defeat Mephisto at a distance, he needed to get close to kill him. Nazar charged at Mephisto, hoping to catch him by surprise, but the Lord of Hatred was far above being ambushed. Huge spikes of bone erupted from the ground around Nazar and he slammed into them. Nazar burst through the cage with a mighty swing of his shield. Mephisto was once again a step ahead and sent a spear of bone flying at Nazar. Nazar was sent flying backwards, he tried to stand up but could not. He looked down at his chest and where armor should be he saw only his entrails. This was it, he thought. His journey was over.
...
No, not yet a warm feeling came over Nazar and he found himself able to stand. His fatal wound was sealing itself and all his energy was returned. Now was not the time to question this miracle, he thought. The Lord of Hatred was truly astonished at this divine intervention. This was his chance and he took it. Nazar slammed into Mephisto with such force that it sent him back into a nearby pillar. The air around the Lord of Hatred was frigid, but it did not harm Nazar. Nazar began to pummel Mephisto with his shield and the demon tried to escape, but Nazar conjured a whirlwind of hammers to prevent this. Magical hammers cut into Mephisto from all sides. Mephisto tried to trap Nazar in a bone cage, but it was destroyed in the storm of hammers.
In one last attempt the Lord of Hatred sent multiple bone spears into Nazar, but somehow they all seemed to miss.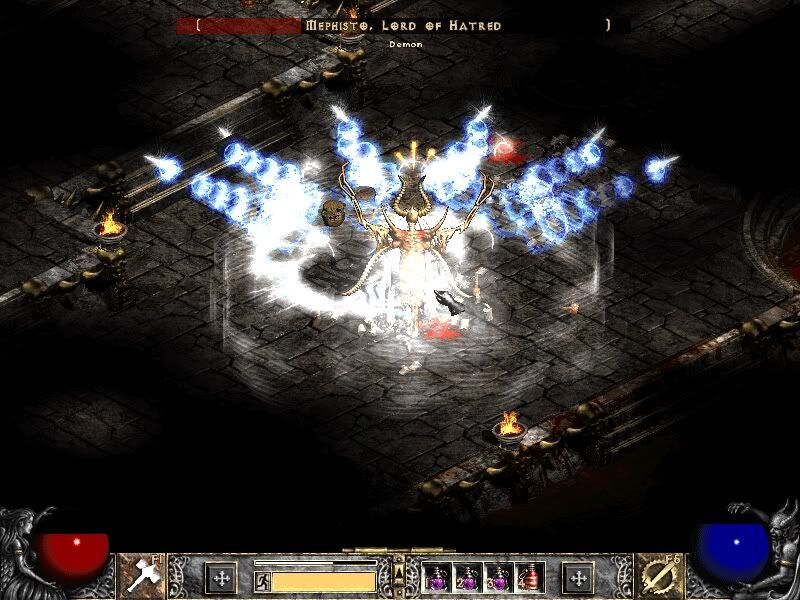 With one last burst of power Nazar sent a bolt of divine magic into the Lord of Hatred. His flesh burned away and his bones shattered, all that remained was a soul stone at Nazar feet.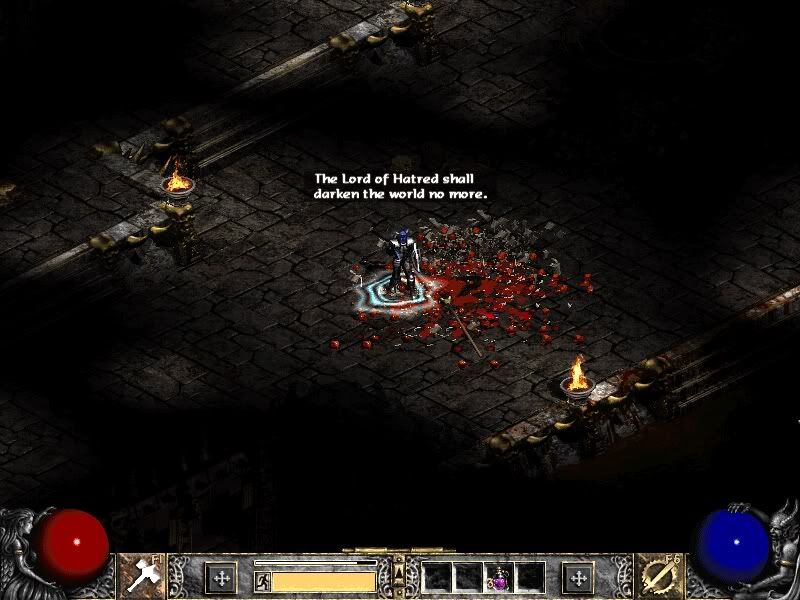 He picked up the soul stone and wandered over to the portal in the center of the chamber. He wondered how much of his sanity was left to actually consider walking into hell. No mortal has ever returned from the burning hells with his soul intact. What he has experienced thus far will pale in comparison to what lies ahead.
Nazar stares down at the soul stone in his hand. It's screams echo in his head and a chill runs through his body. He knows what he must do...