Dragoonix wrote:
ah, I believe i've seen that somewhere before, thanks again.

Still I dont know about hitting max breakpoint w/o fanat, even if i can, i have to decide if its worth it (current weapon wants 152 ias for last bp). Those are some steep returns considering 1 point in fanat is likely to pull down 30 ias.
The ability to craft and quad socket crafts really opens up a lot of doors for a character. Consider this Death Craft armor that I used for mercs on a few of my characters: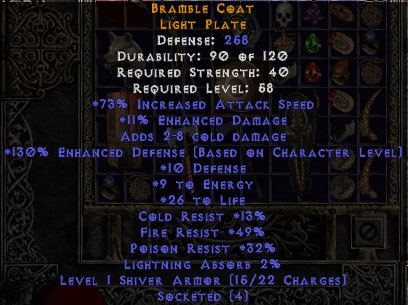 That is only 3x 20% IAS jewels too, I could have picked up another 20% IAS on it had I went for a full set of IAS jewels. I did a similar strategy for my young vengeance paladin - I quad socketted a +3 combat skills rare circlet and tossed a few 20% IAS jewels in there to speed up his pretty slow attack. If you are playing softie, I would be happy to give you that circlet assuming that I haven't already given it to someone else.
Bottom line though is that 152% may seem like a big number, but there are lots of ways to get there in this mod without having to use fanaticism.