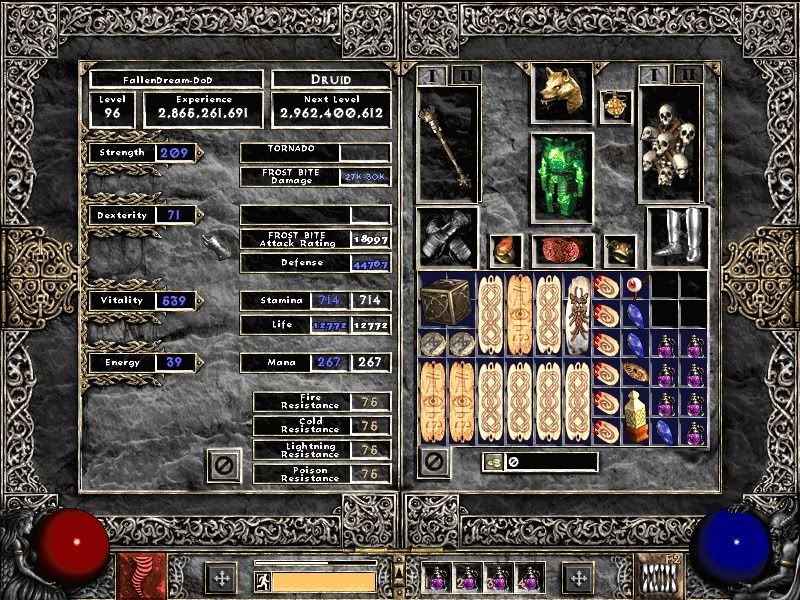 This is an unfinished build and I have raided his charms so his life etc is lower than it should be. He deals out alot of damage extremely quickly. If my calculations are right he is doing 12.5 attacks a second (alot). No skill charms on him at all.
Trying to find a mix of passive pierce and speed/physical damage can be a pain. His cold damage will be low untill mid/late game. As he is melee he needed his lifebuff skills maxed asap. I mainly used fast weapons and loaded up on crushing blow for bosses. Tancreds is ideal with 2 20 ias jewels in the weapon for early game.
weapon wise:
I opted for speed on this build from start to finish. Tancreds early game, crafted war clubs mid game and naj's staff with amethysts, and finally Griswolds weapon with 5 Ether stones for that 2 frame attack.
I never strayed below 120%ias on a weapon. You will want a physical and elemental setup with you at all times. For highly physical resistant bosses such as Tyrael or Sszak you will want as much passive pierce as possible.
Chances are there will be items that you never change. eg. +3 shapeshift amu with res/str/life etc. Ravenlore if you're lucky, Headhunters Glory shield etc.
Elemental Setup Choices:
2 eye of frost rings
Forsaken Moon boots
Templars faceted
Topaz craft gloves
Topaz craft belts
Waterwalk boots
Snowclash belt
Anything with +skills (if you can't find anything better)
All of that works great throughout the game, the crafts are very useful for most of the game as part of your elemental equip. You can always mix and match ele setup and melee setup and get plenty of Dr% on your armour etc while rings/belt/boots/gloves are devoted to -res. its really up to you.
Physical Setup Choices:
There are a variety of choices here from start to finish.
Boots:
Goblin Toe and Gore Riders are the main ones when dealing with a cold immune/resistant boss
Gloves:
Blood Crafts, Deaths combo early game, Venom Grip, Steelrend.
Armour
Duress runeword, Rattlecage, Shaftstop, Boneflesh, Silks Tyraels, etc. etc.
Helms:
any of the druid helms work great as part of a melee and elemental setup, Orphans for the crushing blow if needed.
Sets:
Tancreds, Hwanins, Orphans, Najs, Soulmancers gloves/belt/boots (not full as druid helms are better), Sazabis and griswolds weapon.
Jewelery:
Eyes of frost or blood craft rings, before eyes of frost are available, rare druid rings with res/ar/life/str etc. blood craft ring with druid skills is the perfect choice if you get lucky.
Mercinary:
I opted for an act 3 cold merc for 2 reasons.
1: Act1 phys mercs are way to common and im not much of a fan of them really.
2: Holy freeze aura will break immunes up till act 3 hell. (not all immunes but the majority)
they also get really powerfull later on. To start with I used angelic set + hsarus set, the enormous life replenish on angelic set kept him alive through most things and helped level him untill he was doing some good damage. I changed to a Nightmare merc as soon as I could for the Blizzard damage, it's fantastic later on. Once you get him to a decent level, load him up with -res equip and as much fcr as you can get. He will be doing alot of your trash killing now.
Ps. when using any item with life replenish on a merc, as soon as the merc levels you must unequip the replenish items and then re-equip them. If you don't the replenish wont work for some reason and its going to waste. Don't forget this, especialy with an act 3 merc as this will be his main life line early/mid game.
Skill wise:
20 lycanthropy
20 oak
20 frostbite
20 Hurricane
20 cyclone armour
1 werewolf, feral rage, fireclaws, werebear, maul, HoW and SoB, poisonvine, carrion vine, arctic blast, twister and tornado
Max oak and lycanthropy first. 1 in pre reqs and other 1 pointers, then frostbite and hurricane. Frostbite if you need ar, Hurricane if you need a bigger damage boost. spread them over both at once for good all round effect.
Stat wise:
60-70 str so you don't have a hard time equiping
10 base dex
10 base energy
Rest in Vitality
Remember to charge up maul and feral when attacking, your phys damage is not high but it is very very fast. As long as feral and maul is charged you should be able to leech fine.
With griswolds weap and ether stones in it, the attack speed is amazing. makes short work of trash, just get close and they are dead instantly. Beware laggy bosses counters. Maggot queen especialy, attack her at full speed and the game just freezes and drops. drop your speed here and go for slow attacks with more pierce. (a weapon with saphires). your ar will be seriously high with Ether stones in griswolds caddy.
fantastic fun later on, quite a slow starter though,
Edit: Heres a demo of the speed he is attacking at. makes good use of those soulshards. (Hell Mode btw)
http://www.youtube.com/watch?v=fKhB1lnMfmE
Watch in HQ